• Geeky tendencies • General news • shows
  Thank you so much to everyone that stopped by our booth at Sask Expo. We had a successful weekend and we could not have done it without you. If you didn't make it out to see us then, you have another chance before summer really hits! We will be at the Prairie Pop Culture Celebration (P2C2) in Prince Albert, SK on June 17th   It's a new show and our first time there. Here's hoping for a fantastic day!
---
The Saskatoon Expo is coming up May 5, 6 & 7, 2023 in Saskatoon, SK at Prairieland Park. We're super excited to announce that we will be there in full force with our dice bags and trays, dice vaults, spellbooks, and dice displays. You can find us in the Artist Alley section!    
---
At long last we've made our rpg one-shots into print and play versions for your gaming pleasure. Now family friendly fun can be had for just $3.95, check out our RPG One-Shot collection page for more info!  Please note that these games while rated 12 and up, can be played by anyone as young as 8 as long as there's someone older to lead the game and guide them on their adventure! Here's a peek at the Mouslings and the Wrath of Silverhorn. Printable map, plot card, reference cards, character and creature cards and everything. Easy to follow icons to help...
---
• Geeky tendencies • General news
Thank you for a super successful finish to 2021.  Here's a sneak peek into some things I've got planned for 2022.
---
• Geeky tendencies • General news • Welcome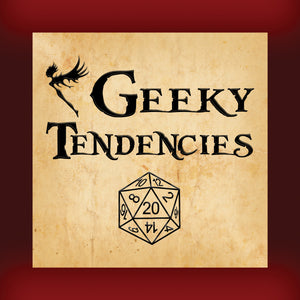 Welcome to Geeky Tendencies, where we like to let our geeky lights shine.